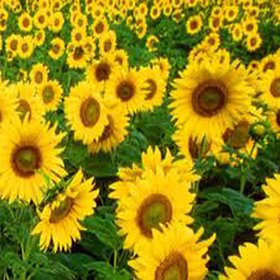 We were planting a few marigolds, basil, and some dwarf
junior sunflower
(picture from Azure) seedlings in the garden today and doing a little weeding when the children were very happy to discover ripe strawberries :) They each got to eat several and I got one little one and it was really yummy. We have an ever-bearing variety, so this is the start of something good.
The
Holstein Cowpeas
we planted are coming up as well as the
Double Standard Sweet Corn
, the cowpeas grow so fast. The sunflowers are just breaking through as well, we planted some
Tiger Eye Mix Sunflower
and Mammoth Grey Stripe at the ends of two beds a couple of weeks ago.
The pea blossoms are looking great, we should have peas in now time. A few of the tomatoes and peppers are getting to be good sizes and have blooms on them. I stopped pinching most of the tomato blooms and am letting them get going. The
tomatillos
are covered with flowers so we should be making some major salsa verde this summer.