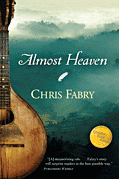 Almost Heaven
By Chris Fabry
Almost Heaven is a story about
Billy Allman. It is a story set in a small community in West Virginia, Dogwood. Billy's life is a hard one. He loves the mandolin and bluegrass and he decides he will get the music people in his hollow love to them and makes it happen by building a radio station buy himself in his home. Billy has a guardian angel helping to tell his story. Malach
i is assigned to watch over Billy and protect him.
I really loved this book. Mr. Fabry is a wonderful story teller, it is one of those books you just don't want to put down and are pulled into Billy's life. Mr. Fabry uses the guardian angel in a very unique way in the writing of the book, there are alternating chapters written from Billy's perspective and also from the angel's. I would totally recommend this book, it is wonderful work of fiction. I am also very interested in reading Mr. Fabry's other books, now that I know the engaging stories he is capable of writing.
You can read the first chapter to get a taste of Almost Heaven.
I was provided a free copy of this book for the purposes of review, the opinions expressed are my own.